A Great Member Benefit from McCreary's Tees!
As the Official Apparel Sponsor for AzPPA, McCreary's Tees is offering to waive for AzPPA members, the $2.00 or $5.00 fee that is normally charged on smaller orders.  You must ask for this waiver at the time the order is placed, whether on an order placed via the website or via telephone.  This is another great benefit of your membership. 
You can contact McCreary's Tees at 602 470-4200 for details.
SAVE on SAGE Total Access and Business Services Suite!
SAGE will offer distributor members a 10% discount on your first user license of SAGE Total Access as well as all SAGE Business Suite package subscriptions, saving members money on a tool you already use every day.  Contact your account rep at www.sagemember.com or www.sageworld.com and tell them you're an AzPPA Member!
SAVE $$ on your Email Marketing!

AzPPA has partnered with Constant Contact, a leading email marketing

company, to bring our members additional savings for their email communications.

Constant Contact, one of the leading providers of small business online marketing tools, helps you to stay in
touch with customers, sell more, and increase your bottom line.

Their easy-to-use marketing tools help you communicate effectively, frequently, and safely. The result?
More repeat business and referrals!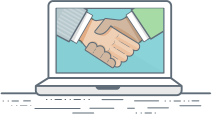 Through this exclusive partnership AzPPA members will receive:
Easy-to-use products

and access to free, branded templates! Simply click on it to update content.



Free phone support and live help

to get your account started and answer your technical and




marketing questions.

Great discounts with plans starting at just $20 monthly.

 Through the partnership, receive 20%




off 6 months prepaid, and 25% off 12 months prepaid.

An industry-leading delivery rate.

Your emails get delivered into inboxes--not into spam or




junk folders.




Already a Constant Contact customer?
If you are already a customer and looking to have your account moved under the AZPPA partnership,
please call (855) 854-8609 or email partnersupport@constantcontact.com. Let them know your
existing account username, as well as the partner name you'd like to be moved under: AZPPA
Questions about getting started?
Constant Contact offers marketing coaches to help you get started with your first campaign
at 1-855-815-5450 or coach@constantcontact.com. Reach out to them today to ensure your
first email is a success!

Not an AzPPA member?  Click here to download an application
or complete an online application.

Would you like to save thousands of dollars on products you already purchase?
Over 200 coupons, from national suppliers, with discounts on set up, express shipping, EQP pricing, samples, and $$ off on your order. Members tell us if you use just (2) coupons out of this book you can easily recoup your annual membership fee.

Here are some of the other great discounts available with your AzPPA
membership:

Save on Pantone Products

Promotional products veterans know just how important proper color matching is to satisfying customers and the best way to ensure colors match is with PANTONE® products. As members of the PPAI Regional Affiliate Program, AzPPA, now offers a great selection of PANTONE® products including the best selling Formula Guide (most popular with Suppliers) and the Color Bridge (a Distributor favorite).

Start saving up to 25% on PANTONE® products by visiting www.regionalassociation.org/pantone. For additional program details, contact AzPPA Executive Director, Carol Murphy at: cmurphy@azppa.net or call (480) 626-1958.

NOTE: To receive your discount you must be a member and enter the AzPPA pass code. If you are not sure what that code is, please contact, AzPPA Executive Director, Betsy Andrade. Disclaimer: Regional Affiliate Pantone Program is provided through PPAI, your industry's authorized Pantone Partner. Pantone discounts are off standard retail prices and cannot be combined with other offers or discounts. Shipping not included. Prices are subject to change without notice.


Merchant Credit Card Processing
Want to save money on your credit card processing?

Savings for AzPPA members as high as 52%
Arizona Promotional Products Association has partnered with Direct Connect America to bring businesses a cost saving solution to high credit card processing fees!  Learn how you can potentially reduce your credit card processing fees up to over 50% through this Members Only Benefit!
Application Fees are Waived!                   SAVE $100
Reprogramming Fees are Waived!            SAVE $40
Download Fees are Waived!                      Save $50
Special Statement Fees
for Association Members!                         $7.50 a month
Monthly Minimum Processing Fees are:   Only $15 a month

Contact: AzPPA Member, JACK A. NYLUND
Office: 623-974-0001
appledaisy15@gmail.com

In addition, your AzPPA membership helps your professional development
and connects you with your peers:
Professional Development
Educational seminars to enhance your success in business, most of which can help you earn
CEU credit towards your MAS/CAS.
Connections and Events
Online members-only directory to keep you connected with your peers

Reduced Fees at ALL social and educational events

Publications, including eblast notifications and newsletters to keep you informed of the latest issues

Opportunities for involvement in AzPPA leadership




Membership Categories and Fees
Membership in AzPPA is based on individual anniversary dates.  No matter when you become a member, you receive a full year of benefits! While each member company may have multiple employees with access to AzPPA benefits, each member company has only one vote.
Supplier Members - $125.00 Annual Membership Fee
A supplier is a company within the United States or its possessions, Canada or Mexico, that manufactures, converts, warehouses or decorates promotional products for sale to promotional products distributors or to a firm maintaining a division or affiliate devoted to reselling promotional products.
Supplier Representatives - $125.00 Annual Membership Fee
A Supplier Representative is an independent company, contracted by one or more suppliers to market their products and services to distributors.
Business Services - $125.00 Annual Membership Fee
A business services member is a company that sells services, information or products (other than promotional products) that support the normal conduct of business.
Distributors - Tiered Annual Membership Fee (see below)
A Distributor is a company (or a company that maintains a division, department or affiliate) located within the United States or its possessions, Canada or Mexico, whose primary business includes developing ideas for the use of promotional products, buying such products from suppliers and reselling them to end buyers.


| | |
| --- | --- |
| Company Size | Annual Dues |
| 1-2 employees | $125.00 |
| 3-10 employees | $175.00 |
| 11-20 employees | $250.00 |
| 21 or more employees | $295.00 |